What are the common causes of hearing loss?
Each type of hearing loss may have some different causes. Disclosure to loud noise is a common cause of both hearing loss and tinnitus. Infections are also a common cause, as are birth defects, genetics and reaction to drugs, particularly chemotherapy or drugs used for cancer treatment. The different causes of hearing loss.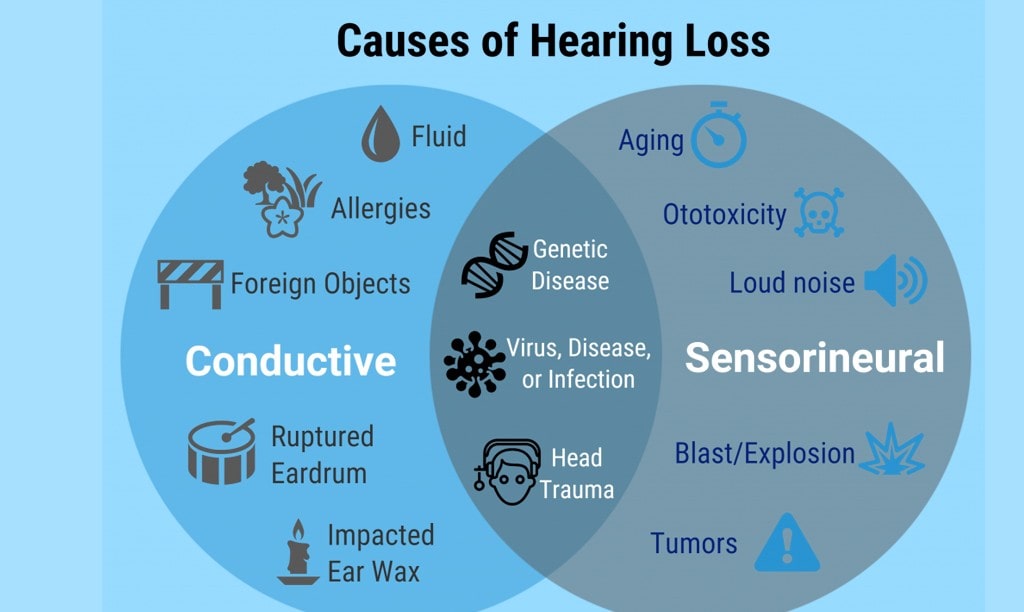 Causes of sensorineural hearing loss:
Aged
Injury
Unnecessary noise exposure
Viral infections
Stones
Ototoxic medicines (medications that damage hearing)
Meningitis
Diabetes
Stroke
High fever or high body temperature
Meniere's disease
Auditory tumors
Genetics
Obesity
Smoking
Hypertension
Causes of conductive hearing loss:
Infections of the ear canal or middle ear causing in fluid or infection buildup
Damage or scarring of the eardrum
Wax accumulation
Disorder of the middle ear bones
Foreign object in the ear canal
Otosclerosis (an unusual bone growth in the middle ear)
Abnormal growths or cancers
What is the Cause of Hearing loss/Deafness?
Several researches have been madeby Our Hearing Aid Specialists to find the various causes that lead to deafness.
Deafness can either be:Genetic – Typically, children born with deafness. This is more common in parents who have had consanguineous marriage but can happen otherwise as well. People with family history of hearing loss can suffer from hearing loss in adulthood due to an inherited condition called Otosclerosis, which affects the tiny bones inside your ear.
Acquired – Infections can cause damage to ear drums, ossicles (tiny bones in your ear) or inner ear resulting in temporary or permanent damage to hearing. Trauma such as major road traffic accidents can fracture the hearing organs. Serious infections like meningitis can cause permanent loss of hearing.
Old age – Over the age of 65, many people suffer from hearing loss typically involving high frequency sounds. This is not due to any illness but a weakness that sets in with age much like use of spectacles for reading at old age.
Very often, no definite cause of hearing loss can be identified. Rarely, adults can lose complete hearing usually in one ear within hours, a condition called Sudden sensorineural hearing loss. This condition is thought to be due to either a viral illness or a mini stroke like condition that causes temporary loss of blood supply to the inner ear.
ADRO hearing aid center follows distinct procedure to solve different types of causes that leads to deafness/hearing loss.